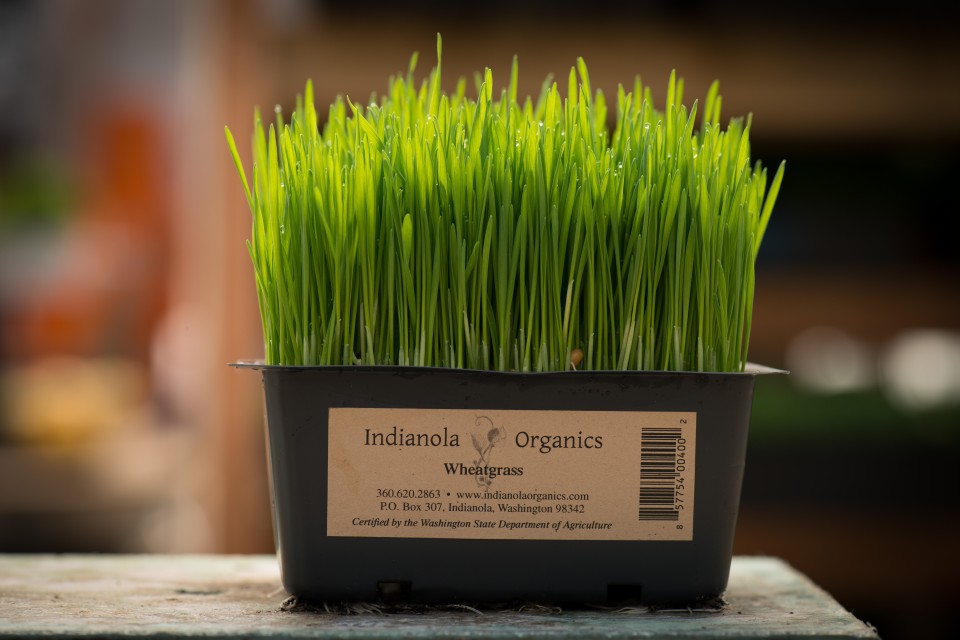 How we juice wheatgrass here in Seattle
At our farm near Seattle, Washington we grow our wheatgrass, pea shoots and sunflower greens under natural Seattle sunlight thus our wheatgrass is chockfull of chlorophyll, vitamins, amino  acids, minerals and enzymes!
Wheatgrass is best juiced and consumed within 15 minutes to get the full nutritional benefit.  You do not need an expensive juicer, although if you can swing it an Omega or Samson electric juicer gives you easy power to juice all kinds of veggies and fruit as well.  Our favorite affordable model is the the Healthly Juicer, which has terrific reviews at only $49.95.   This manual machine will extract the juice beautifully from your greens.  Start with one once or less and gradually build up to two ounces.  Many folks will have two ounces in the morning and then two ounces again in the evening.  Do not consume more than two ounces at a time or more than four ounces in a day.  For the best yield, taste and nutrition, water and drain daily.  Harvest grass when a second blade of grass appears on the grass blades, or when the grass "splits" toward the bottom of the blade.  If you do not have time to juice, cut the grass just above the soil and store in the refrigerator which prevents the grass from aging, thus losing nutrients.   Only harvest once.  The grass will keep fresh up to one week or longer if you use a Debbie Myers Green Bag(which we love by the way).  Here at Indianola Organics we prefer our shot solo but many folks like to add to their green juice recipes or smoothie.  We will be adding more great recipes for making green drinks with those gorgeous fruits and vegetables from one of our beautiful Seattle area farmers markets.
Our can buy our wheatgrass all over the Seattle, Washington and the Pacific Northwest including PCC, Central Market and Ballard Market.
Enjoy Seattle!